You can't have a gardening website without a little something about Ireland can you?



One of Ireland's most famous botanical sites is the Burren in County Clare. Among the extraordinary features of this area is the combination of alpine plants growing side by side with Mediterranean species.

This is explained by the unique combination of cool, wet summers, which enables the alpines, which cannot tolerate summer drought, to survive; and the mild winters, which allow the frost-sensitive Mediterranean species to survive.

Irish monasteries and castle gardens typically included plants for cooking and healing. Some common flowers grown among the castle walls include roses, geraniums, blue cornflowers, yellow pot marigold and love-in-a-mist.

All shamrocks are considered lucky and are worn and given as gifts on St. Patrick's Day.

Several different plants are sold as Shamrocks.

There is some disagreement as to the exact plant, but most Irish growers will tell you Trifolium repens, or white clover are most commonly known as shamrocks.


White Clover
Trifolium repens, or white clover are perennial plants, growing about 4 inches high. Trifolium take full sun to part shade and like average water. They spread by rooting stems and can be used as a ground cover. White clover get white puff-ball shaped flowers in early spring and generally have three leaves. Indoors they like sun or bright light and should be kept slightly moist. In a 4 inch pot, they will probably need weekly watering.


Wood Sorrel
Oxalis acetosella, or wood sorrel is another plant called shamrock. Oxalis is a perennial plant that grows about 5 inches high. They spreads easily by rhizomes and can become invasive. These shamrocks like part shade and moist, woodland conditions. Oxalis is commonly called clover and has white, five petaled flowers sometimes tinted with purple or pink. Oxalis is usually three-leaved. Indoors they like bright, indirect sunlight and somewhat damp soil.


Protective Three Leaved Clovers
Three leaved clovers are worn as protective amulets. They were used by St. Patrick to demonstrate the concept of the Holy Trinity while converting the Druids to Christianity.


Lucky Four Leaved Clovers
Four leaved clovers are considered lucky and protective. They are said to help the wearer find treasure.


Some Irish botanists say the Irish Shamrock only exists on St. Patrick's Day.


Ireland's Native National Tree:
Sessile Oak (Quercus petraea)

Ireland's National Flower:
Shamrock (Trefoil)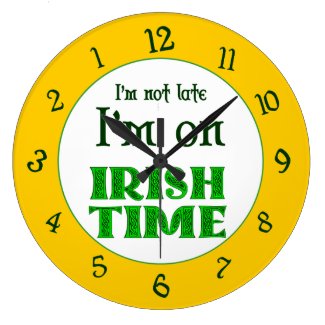 Irish Time Backwards Numbers Clock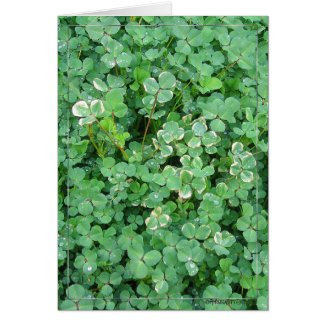 Irish Shamrocks Nature Photo Blank Note Card